Home | हिंदी | English |

New Website

ICI editor gives presentation at CUJ

Ranchi, Sep 26: Former scientist of National Institute of Science Communication and Information Resource (NISCAIR) and present editor of India Citation Index (ICI) Prakash Chand today said there is no dearth of talent for good research works in India but the mindset.Mr Chand brought home the point that most Indians felt Indian culture is good but they at the same time found "others' works are great".Mr Chand gave a presentation at the Central University of Jharkhand in presence of Vice Chancellor Prof A N Misra, deans, faculty members and research scholars.He said the Indian people try more to see their articles printed in foreign journals, which is not a "good sign".
Indian Citation Index (ICI) is a home grown abstracts and citation database, with multidisciplinary objective information/knowledge contents from about 1000 top Indian scholarly journals providing powerful search engine basically to perform search and evaluation for researchers, policy makers, decision makers etc, he said.
A database in general is a collection of information that is organised so that it can easily be accessed for various purposes, managed, and updated regularly.
Citations symbolise the association of R&D ideas. The references that researchers cite in their papers make explicit links between their current research and prior work in the literature archive. Indian Citation Index use intellectual links by listing both cited and citing works. Like other indexes, this enables one to move back in time to previously published papers. But uniquely one can also look forward in time to determine who has subsequently cited an earlier piece of research.
Earlier, the CUJ vice chancellor in his introductory speech welcomed Mr Chand and made a brief summary of present scenario of research and journals across the country.
He hoped that the presentation would enlighten the faculty members as well as research scholars to produce quality articles and get the same printed in Indian journals.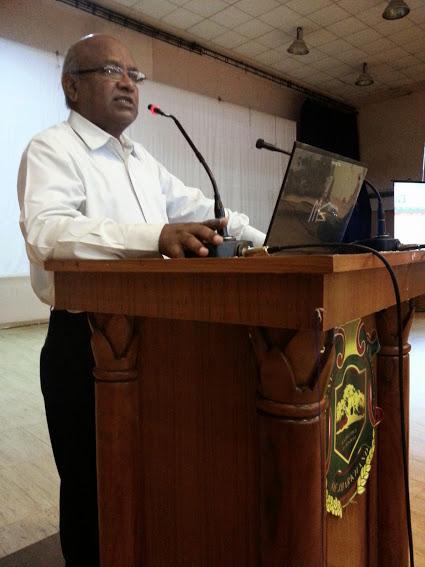 Issued by
Prasanta Bora

Chief Communication Officer
Central University of Jharkhand
Ratu Lohardaga Road
Brambe-835 205
Mob: +91 887755 0066