Home | हिंदी | English |

New Website

Press Releases
A Two-day Foreign Policy Awareness programme ends at CUJ
Ranchi, Feb 28, 2015: A two-day Foreign Policy Awareness programme was organised by Centre for Human Rights & Conflict Management, Central University of Jharkhand, in collaboration with Indian Council of World Affairs (ICWA), New Delhi. The awareness programme included essay-writing and debate competition for students and panel discussions on the aspects of Indian foreign policy in contemporary globalised world. Prof. Keshav Mishra, Banaras Hindu University, Prof. Alok Gupta, Central University of Bihar and Dr. Praveen Singh, Vinobha Bhave University and Dr. Sanjeev Kumar, observer, ICWA, participated in panel discussions which was moderated Dr. Satish Kumar, Head, Centre for International Relations.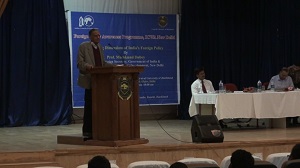 Prof. Muchkund Dubey, Former Foreign Secretary Govt. of India & President, Council for Social Development, in his distinguished lecture on "Emerging Dimensions of Indian Foreign Policy " argued for the need of moral integrity in and value-based foreign policy in the post-cold war, globalised era. Prof. S. K. Tewari, Vice Chancellor (In charge) presided the session.
Dr. Saurabh, Dean, School of Humanities & Social Sciences, was the convenor of the programme.  Dr. Madhukar anchored the ceremony. The vote of thanks was proposed by Ms. Shilpi Hembrom.  Ujjval Mishra, Rameshwar Nath, T. Krishna, Sanchana Srivastava won the prizes in the competitions organised for the students. The programme was organised to promote foreign policy awareness in Hindi.