Home | हिंदी | English |

New Website

Press Releases
CUJ Celebrates National Science Day
Ranchi, Feb 27, 2015:In an effort to popularise the profits of scientific knowledge and its practical, everyday usage, Quarks Ensemble, the techno science club of Central University of Jharkhand (CUJ), celebrated National Science Day today, a day before due to the holiday on 28th February, the day National Science Day is observed to mark the novel discovery of Raman Effect by the great Indian Physicist  Sir C. V. Raman on 28th February, 1928. The celebrations included a host of activities like debates, speech, quiz competitions, and poster exhibitions involving students and teachers of the University and schools of neighbouring areas.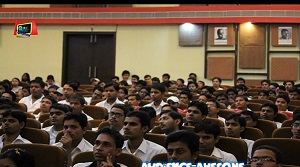 Colonel Sanjay Kumar Srivastava, Advisor to the State Disaster Management Authority, Govt. of Jharkhand was the chief-guest on the occasion.  He applauded the student body of Quarks Ensemble for organizing such an event to build closer connections between science and society. Prof. S. K. Tewari, Vice Chancellor (In charge), Central University of Jharkhand, spoke on the necessity of spreading the message of significance of science and its application among the people. Prof. S. Medhekar, Registrar (In-Charge) and Prof. S. K. Samadarshi, also spoke on the impact of science on human welfare. Dr. Manoj Kumar, Head, Centre for Environmental Sciences coordinated the programme.
Piyush Pallav and Amrit Raj from Centre for Applied Physics won the Science quiz. Swikriti Tripathi, Varsha Zena and Sainee Sen Gupta secured prizes in essay competition on "Science and  Nation-building."  Rohan Kumar Shaw, Prathma Pragya, Divya Priya, Vaibhav Kumar, Prashant won the prizes in speech and debate competitions. The posters of Ankita, Anyesha,  Garima and  Nishkam, Avanish and Vishal were adjudged to be the best posters of the event.
The students from neighbourhood schools, H. H. High School, Carmel School, St, Thomas Public School, Govt. M. S. School and St. A. G. Church School also participated in Painting and Essay Competitions.
Quarks Ensemble is a techno-science club of CUJ.