Home | हिंदी | English |

New Website

Press Releases
Ranchi, Feb 5:
With a view to exploring new paradigms in business, captains of industry and business gurus from India and abroad gathered at the Central University of Jharkhand (CUJ) as the two-day international conference began stressing for ethics in business today.
Keeping in tune with the title of the conference "The Next Leap: Exploring New Paradigms in Business", organized by Centre for Business Administration, CUJ, distinguished speakers at the inaugural session spoke on issues ranging from business ethics, rise of China as regional and global power to paradigm in education.
Dr Pradeep Taneja, Prof of Political Economy at the University of Melbourne, spoke largely on rise of Chinese economy and relationship between politics and business in China. According to him, no country has changed as fast as China and he attributed it to the Chinese government's thrust on executing policies. China has pursued growth and the Chinese people are never arrogant about learning things. Prof Taneja said unlike the policy makers in India where execution is an area of concern, China has demonstrated tremendous state capacity to execute plans. Adaptation and pragmatism are two other key features that mark China's temperament, he said and brought home the point that the Chinese government is open to new ideas if they feel that help the country grow.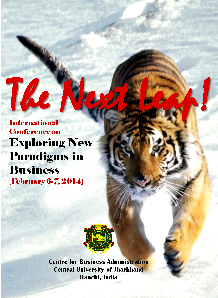 Prof Sanjay S Gaur from Auckland University, New  Zeland, said no country was immune to the global financial crisis (GFC) including China. He said "we need to know how to react to political decisions…"meaning that social factor plays vital role in economy growth as well. He said there is paradigm in education and the management students are required to know how to behave in a changed situation.
Dr Hasit B Joshipura, vice president, South Asia and Managing Director Glaxo Smith Kline Pharmaceutical Limited, also spoke on the occasion.
Mr Subir Chattopadhyay, director (project) of MECON Limited, spoke on business ethics adding unethical practices aimed at financial gain alone is not welcome. He said imlplementation of ethical practice initially may cause some adverse impact in finance. In the long run it would ensure reputation and brand equity, he said.
Dean of Centre for Business Administration Prof Taposh Ghoshal welcoming the guests gave a brief introduction of the concept of the conference while Registrar of CUJ Prof A K Sarma wished the participants a success. Assistant Professor Neha Kaur anchored the inaugural session and Prof S Ghosh proposed vote of thanks.
Issued by
Prasanta Bora
Chief Communication Officer

Central University of Jharkhand
Ratu Lohardaga Road
Brambe-835 205
Mob: +91 887755 0066