Home | हिंदी | English |

New Website

Popular Lecture Series
1. Prof. Jai Prakash, Prof Department of Mathematics Botswana University,Botswana delivered talk on "Beauty and Fun in Mathematics and Suggested ways for Happy Living and Good Learning "  and " India's Contribution to the world" on 4th July 2018
2. Prof. Ahin Nag , Department of Chemistry IIT Kharagpur  delivered Popular lecture on "Greener Chemistry for Future Generation" and "Grignard protocals for synthesis of biological and pharmaceutical compounds"  on 19th July 2018
3. Shree Indresh Kumar Ji, Expert on International Relations delivered popular lecture on "Tibet in Indian Cultural Values" and Madam Gayri Dolma, Ex Home Minister Tibet in Exile delivered Talk on "India and Tibet issues". On 19th September 2018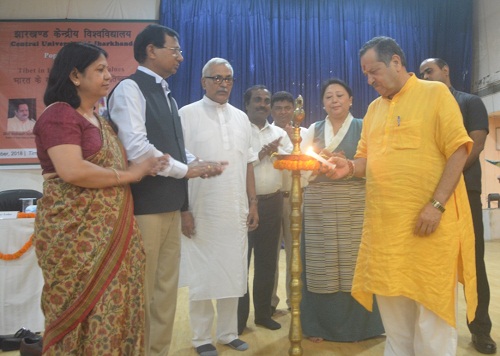 4. Prof. G. D. Yadav , Vice Chancellor, LCT Mumbai delivered popular lecture on" Research Innovation and IPR" on 8th October 2018

5. Dissent is the soul of creativity for when you question the old you get something new. When our socio-cultural political miliue and norms are questioned by one person that gives nectar for the present and the future, said M. K Raina, eminent theatre personality and Sangeet Natak Akademi Awardee.
Mr. Raina was delivering his talk on Creativity and Dissent in Central University of Jharkhand. He outlined the whole Indian tradition of dissent taking into consideration Natyasastra, Abhinavgupt, Bhaas, bhakti and Sufi movement and later  performance of Neel Darpan and independence struggle. He emphasized on the Indian tradition of dialogue and how that led to creation of something new. 
This talk was organised under the auspices of Popular Lecture Series being organised in the Central University of Jharkhand to promote interdisciplinary dialogue among the faculties, scholars and students. In this lecture series prominent persons in their respective fields are invited to talk about issues of relevance for the enriching the academics. 

Till now speakers like Padmashri Prof. G. D. Yadav and Indresh Kumar and many more have spoken. 
Earlier in the morning Prof. Nand Kumar Yadav 'Indu' welcomed and felicitated Mr. M. K. RAINA. MR. Raina is also conducting two day workshop for performing arts students and theatre enthusiasts in CUJ. This workshop is coordinated by Dr. Venkata Naresh Burla.
During popular lecture talk Prof. Sarang Medhekar, Convener Popular Lecture Committee welcomed and felicitated the guest.
The lecture session was conducted by Dr. Sudarshan Yadav and Dr. Rajanikant Pandey and Dr. Shivendra Prasad.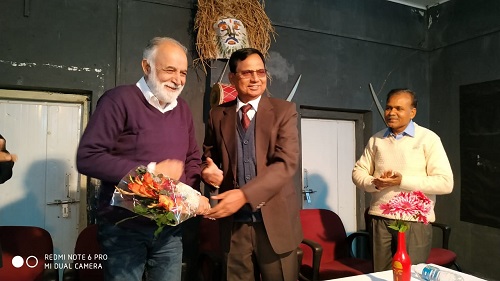 6.Vice Admiral Shree Shekhar Sinha delivered a very insightful popular lecture on "Leadership and Development" by on 6th February, 2019. The session was appreciated by gathering because of speakers key observations on India's strategic achievements in international relations in recent times.
7. Prof Baltej Singh Mann, Member, National Commission for Minority Education delivered lectures on "The Concept of Bhartiya Economy" highlighting the role of India in global economy on 28th February, 2019
8. Dr. Srivari Chandrasekhar, Director, CSIR-IICT, Hyderabad  delivered a popular talk on science technology and its relation with society titled "Molecules with Celebrity Status in Human Wellbeing" on 25th March, 2019. He in his engaging deliberations motivated young students to develop research mindset, to innovate technologically, and to tackle future scientific challenges in human wellbeing.